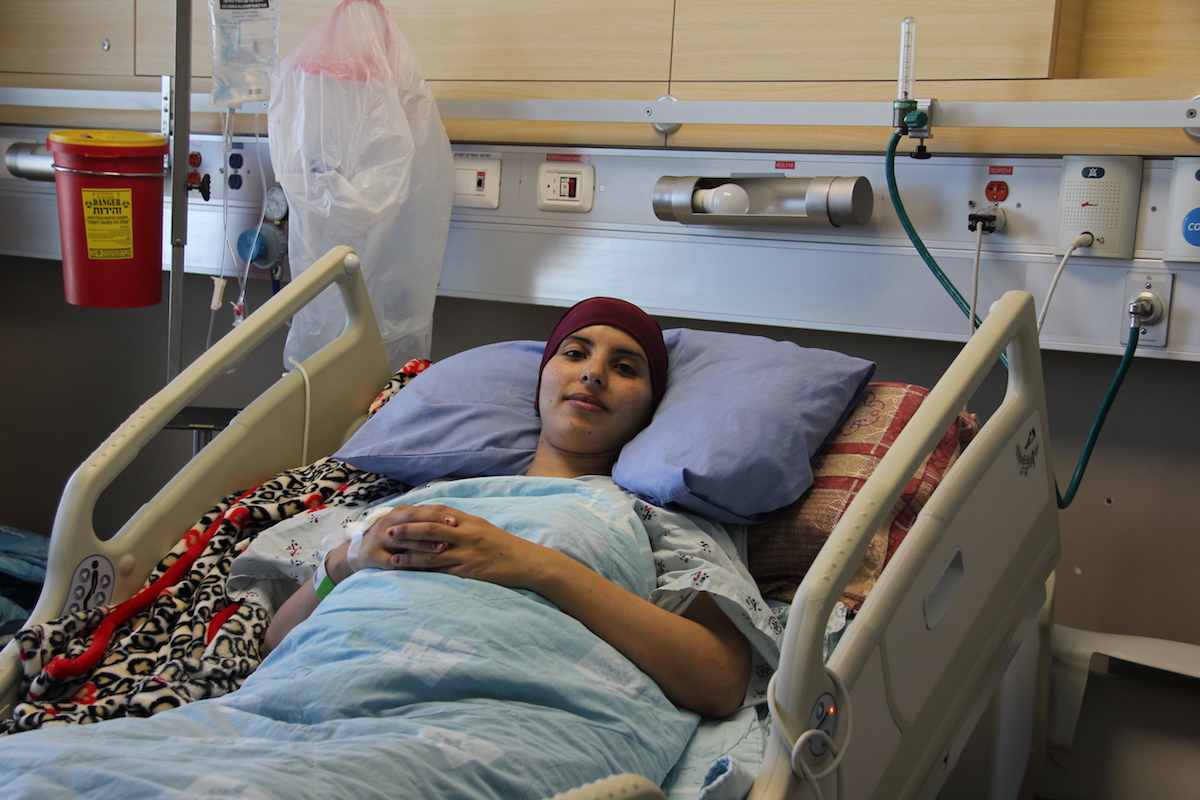 Razan Sadka, 23, already had two daughters , so when she felt pains in her legs, she knew it wasn't just the usual tiredness of pregnant women. In her seventh month, the pain got worse, now spreading into her back.  She even fell once in her house.  Several local doctors told her this was a common complaint in pregnant women, due to pressure of the uterus on the sciatic nerve, and that her condition would return to normal after the birth. She was prescribed a cream to take away the pain.
Razan's condition worsened. By the eighth month, she had no sensation in her legs. She couldn't get out of bed. Her husband and her father carried her to the car and took her to the local hospital in Ramallah where examination revealed a large growth on her spine, on the fourth vertebrae, the size of the vertebrae itself.
Because of the unusual tumor and Razan's advanced pregnancy, they contacted Hadassah Ein Kerem and asked to transfer her.
Dr. Leon Kaplan, head of the Spine Surgery Unit, and Dr. Jose Cohen, Director of Endovascular Neurology were waiting. Several hours after arriving, Razan's third daughter was delivered by caesarian section. Immediately after, she underwent catheterization of the spinal arteries, in order to block the blood supply to the tumor.
Drs. Kaplan and Cohen had assembled an interdisciplinary team that would preserve the neurological function of the spinal cord, return movement in her legs, and allow the young mom quality of life.  The tumor and vertebrae were removed, and a spinal fixation placed to bridge the gap, with implanted bone tissue where the vetebrae had been.
Dr. Kaplan said: "In my long  career, I have  analyzed four cases with a similar diagnosis, but here was a first — there was  paralysis, advanced pregnancy and massive bleeding all together. We still have to find out whether this is the first such case in world scientific literature."
The surgery ended successfully and last week Razan was released to her home with her new daughter, Khadija.
A few days after the surgery, the mother walked around the hospital:  "I'm like a new person. It's a treat to be back on my feet, really walking with my daughter," she said with a  giant smile illuminating her large dark eyes. "Hadassah brought me back to life. Thank you so much."
Stories like this are why we are so passionate about Hadassah.  
Miracles like this are what brings so many patients to Hadassah Hospitals.
Successes like this is why Hadassah, The Women's Zionist Organization of America, is 106 years old!
If you wish to…..Donate Today 
Susan Adler, President, Hadassah Seattle
Jacquie Bayley, Development Chair